How to Practice Live Attendance
Before your actual event, you might want to practice using Live Attendance with your volunteers or staff so you know what to expect the night of your event.  Below are instructions on how to practice without actually recording the attendance data on Ministry Sync.  You are able to use all the Live Attendance features for as long as you want do.  Just follow these instructions when you are all finished practicing.

Important Note: Your event will be closed during practice mode, and you will need to go into Ministry Sync to re-open it after you have finished practicing.
How to Practice:

1. From inside Ministry Sync, make sure your table chart has been created and all of your tables--even any empty ones--have groups assigned to them. All tables need to have groups assigned to them. If you don't have groups at all your tables, Live Attendance will "Overflow Groups" to your group list. 

2. From inside the Hub, follow all the on screen prompts connect to the internet and to download your data.

3. Follow all the normal instructions to connect your devices and use Live Attendance on your own iOS devices until you are all finished practicing.

4. When you are finished practicing press "Finish Live Attendance" on the iPad Hub from the "Good to Go" screen.

5. On the "All Done?" screen is where you divert from the normal instructions.

6. Make sure your hub is no longer connected to the Offline Wireless Network and is instead connected to your wifi.

7. Press "Erase & Reset Hub".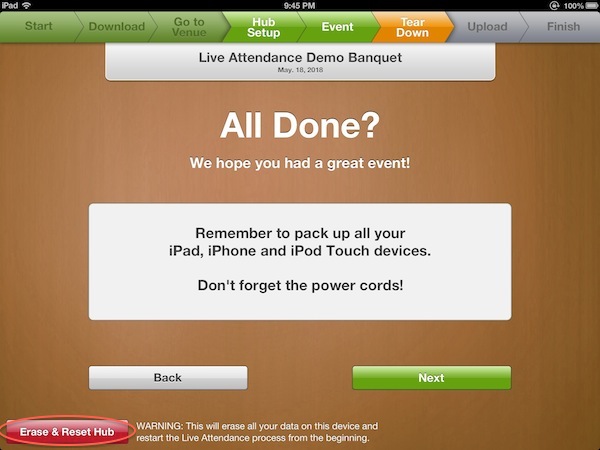 7. Follow the on-screen instructions to Erase & Reset the Hub.  
8. On the Erase & Reset Hub page, click Continue
9. Confirm that you want to reset the Hub
10. Click Okay. Your data has been erased from the Hub. You'll need to download your event data again before your event.
11. Remember to open your event when you are done.

Note: If after practicing Live Attendance you see the lock out screen, try refreshing your page. If after refreshing your page you cannot access your event in Ministry Sync, open the Hub and make sure that you've completed all the steps to Erase and Reset the Hub. In rare cases when there may be a weak internet connection, you may need to log in again and repeat these steps if you are unable to access your event. You must be connected to the Internet, not the Offline Wireless Network to erase and reset your Hub.