Setting FundEasy Preferences
Design
Page Options
Donation & Payment
Part of the setup process for your FundEasy event includes setting up options on your Event Web Page and your participants' pages. You'll do this in FundEasy Preferences. Click either Event Information or Template Setup and then the FundEasy Preferences link.
Design Tab
Upload your banner and choose the skin (colored frame) for all of your page templates.
2056 X 514 px. (The banner is really going to be displayed at 1,028 x 257 on the page, but it's double the resolution for Retina screens.)
You also have the option of adding a banner specifically to be used on Facebook posts. This banner needs to be 470 X 246 px.
FundEasy skins do not appear on your email templates
Page Options Tab
This is the default tab that opens when you enter FundEasy Preferences
Select Your FundMeter. You can choose between a thermometer or a baby bottle



Customize Default Media for your Event Web Page and your participant's pages. Each page has a spot for a default image or video. We include one of people running, but you can upload a new image in this section.



Setting default media will still allow participants to upload their own pictures, but when they share their page, only your default media will be shared
Check the box to allow your participants to replace your default media with their own when sharing on social media
You can disable any media uploads on FundEasy pages, which will only allow your default media to show on FundEasy pages and social media


If you set a default video, you can choose whether it should show in the Event Description or the Organization Public Description.

Page Customization deals with changes you can make to how the participants register and the information available on their FundEasy pages. From here you can also include Event Sponsor Totals on your Event Webpage.

If you Enable Teams, this section has options for how teams are created and managed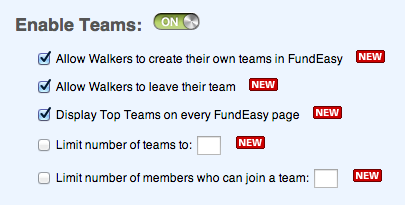 Donation & Payment Tab
Change your default payment amounts or the Beneficiary Name, Address or Website in the FundEasy Donation Form section.
 
Choose the available payment options for online payments, and edit the mail a check information on the FundEasy confirmation emails only. (To change the mail a check address on the Registration Form, please contact a Ministry Sync Representative)

Updated 7/22/16